Free Razor - 11/9/05
When my youngest brother Alex turned 18, the Gillette company send him a free shaving kit containing a free Sensor razor, shaving cream, and a few spare blades - basically everything shaving-related that Gillette makes, all for free, all in a nice black box labeled "Happy Birthday Alex!". Not long after, I discovered that Alex wasn't the only one. Gillette was trying out a new marketing scheme to send
every
eighteen-year-old male, at least in selected cities, the free shaving package.
The idea, at first, seemed like a terrible one - why would anybody buy Gillette products if they're just giving them away for free? But then I realized the wisdom - razor blade companies don't make any money on the shavers (which cost like 4 bucks a piece); they make all their money on the replacement blades (which also cost like 4 bucks a piece). So if a kid already has a Gillette razor, even if he didn't buy it, what kind of blades is he going to purchase when he runs out? Gillette, probably.
It's actually quite a diabolical strategy. Going on the familiarity principle, most guys are just going to stick with whatever brand of blade they started with. Because what's the different in shavers, really? Whether they have 8 or 9 blades, or whatever insane number they're up to these days? This technique also has the added effect of sinking the competition - how are you supposed to compete with a company who's just giving quality blades away? If I had been a Mom 'n Pop start-up razor company, I'd have been pretty pissed at Gillette about then.
The only problem with Gillette's attempt on our house was that Alex, being a beastly man-child, had been shaving since like age 14, so they were about 4 years too late. But you have to admire them for trying, and respect their business savvy - today, Gillette remains about the top-selling shaving company there is. Their stratagem seems to have worked.
Thus, I wasn't wholly surprised last week when I found a free Schick Midnight razor blade in my mailbox, possibly as a present for my up-coming 26th birthday. Apparently Schick got the memo.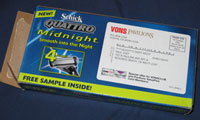 Unfortunately, the Midnight came with neither extra blades, nor shaving cream, not even a memo wishing me a happy whatever. Too little, too late, Schick. Besides, I long ago stole Alex's free Sensor, and have been using Gillette ever since.