Electrical Surge - 9/6/05
In perhaps an ominous start to our year as roommates, Friday night's Paulina 3 party was accompanied by some kind of 1am electrical surge that knocked out several electrical appliances in our house and in the adjacent units. In total, we lost:
- Noah's computer (the biggest loss - he just bought it)
- Erin's TV
- Noah's fan
- Brian's receiver*
- Three power converter cables
*Though we later learned that Brian's receiver had indeed not been fried, merely hooked up wrong by idiot me.
There was also that horrific smell of melted plastic that lingered in Noah's room for a full day afterwards... unfortunately assuring us that the problem with his computer was not simply a matter of hooking it up wrong.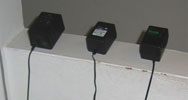 Though certainly the least serious, the loss of three separate power cables was certainly the strangest loss out of the group. One hooked to the modem, another to our router, and a third to an old Discman in my room, three different cables simultaneously burnt out, while protecting the much more valuable (except the Discman) pieces of equipment hooked up to them. Cables, I pour one out for you - you're as good as surge protectors.
Possible causes for the deleterious surge:
- Somebody spilled beer into an outlet (very likely)
- Our party was rocking SO hard that an electromagnetic pulse was generated (somewhat likely)
- It's Iraq's fault (not likely)
- A pre-invasion technology-disabling ray gun, shot from space by aliens (probably the most likely scenario)
Damn you aliens, our power cables will be avenged.