Parking Ticket - 11/2/06
I'll talk about my wacky time at West Hollywood's Halloween Street Party in a minute, but first this.
I got a parking ticket two weeks ago. I think if I've ever had a good chance at getting out of a parking ticket, it's this one.
The following is my letter to the parking bureau:
>>>>>>
To whom it may concern,
I would like to contest the ticket I received on 10-14-06 (Cit 1037981980) at 1606 Cahuenga. As the below photographic evidence indicates, the meter was broken and had been tagged by the city; thus, I did not deposit any coins.
I also happened to have my camcorder along, and you can see video evidence of the situation at www.paulspond.com/parkingticket
Please excuse the ticket, and let me know if you have any questions.
Thanks,
Paul Jury
paul@paulspond.com
(Click on the image below to see the movie)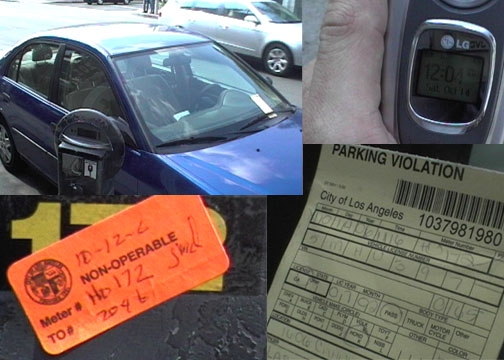 >>>>>>
I feel like my odds are good. Just in case, though, I went ahead and inserted a single frame of somebody's ass somewhere towards the end of the movie.
You can never be too careful.