Do Your 15 Minutes of Fame Count If They're In The Netherlands? - 11/15/06
Something strange happened yesterday with our video website, Pandasmash.com. One of our videos -
the Shopping Cart Joust episode of the IdiOlympics
- caught fire. Around 1pm the views started piling up. By 5pm it was the most-viewed thing on the site. By 8pm it had a thousand hits. By midnight it had two-thousand, with no sign of slowing down.
But we couldn't figure out where the traffic was coming from. Especially in the middle of the night. We also couldn't figure why people were watching the video, but not voting on it, not leaving comments, and not looking at anything else on the site.

And then we found it.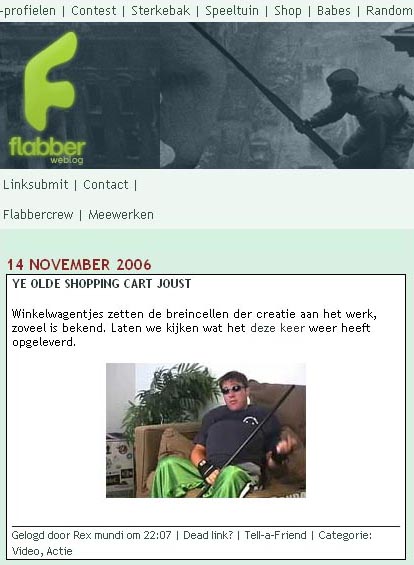 Apparently, we're a hit with the Dutch.
A Dutch website, www.flabber.nl, put up a link to the episode, complete with a picture of Sam (dressed like an idiot), on their front page. In Dutch. Thus, the traffic spiraling upwards all night long (the Netherlands are seven or eight hours ahead). Thus, the lack of people viewing anything else (they didn't understand it). Thus, the huge spike in traffic (Dutch people apparently really like watching shopping carts crash into each other).
All the descriptions and comments were in Dutch, so obviously the first thing we did was to go BabelFish and translate the site. Thus, the following lovely chart:
Original Dutch
BabelFish's Translation
Our Interpretation/Comments
DESCRIPTION
Winkelwagentjes zetten de breincellen der creatie aan het werk, zoveel is bekend. Laten we kijken wat het deze keer weer heeft opgeleverd.
Winkelwagentjes the breincellen put of the creation to the work, so much has been confessed. To let we look at what it has produced this time.
WTF?
COMMENTS
ik hou van vrouwen maar iedereen zijn eigen smaak zekers
do then without protections and with pole-axes
What's a pole-axe?
wat een kansloos filmpje:S
what prospectless film
Thanks - we didn't know it was a film.
hmm, boeiend
hmm, captivating
Thanks! The Dutch like us!
Hmm.. alleen het einde is leuk als ze tegen elkaar aan knallen
Hmm.. end is only nice if they bang against each other to
That's our favorite part too
HEEL VET WOW
HEAL WOW
?
whaahah, For spain!!
whaahah, For spain!!
Whaahah, for Spain!!
Geen zin om hem te zien, hebben ze ook al eens bij brainiac history abuse gedaan. En dan ook met andere voertuigen dan winkelwagentjes.
No sense to see him, they have also already once done abuse at brainiac history. And thus with other vehicles then winkelwagentjes

jesus wa een nerdjes en ze zijn veel te bang om pijn te krijgen pfff kut mietjes

Ja precies, zielig gewoon...

jesus wa nerdjes and them its much too frightened pain get pfff kut mietjes Yes exact, pitifully ordinary...
Jesus, what nerds! They are much too frightened for pain get pfff kut mietjes (?). Pitifully ordinary.
Helm? Handbescherming? Kussens? Alweer winkelwagentjes? Giechelende Amerikanen?
Helmet? hand protection? Kussens? Again winkelwagentjes? Giggling Americans?
We think 'Kussens' means 'fags', and 'winkelwagenjes' means shopping carts. Maybe the Dutch don't like us so much.
pussy's
pussy's
pussies
Goh, wat een grappige gasten zeg. Verder zijn ze gewoon vervelend en kunnen ze beter wegblijven van het internet. Idee 6+, uitvoering 2-
Goh, what says funny guests. Furthermore is them simply annoying and are possible them improve to stay away of the Internet. Idea 6 +, implementation 2
LOL aan het einde zeggen ze : "don't forget to bring a towel" southpark anyone?
FUN to end says them: "don't forget to bring a towel" southpark anyone?
Yes! The first person to get our Southpark reference... was Dutch.
Apparently, we're not such a hit with the Dutch.
But at least they like Southpark.