The "I Hate L.A." Mix - 1/11/10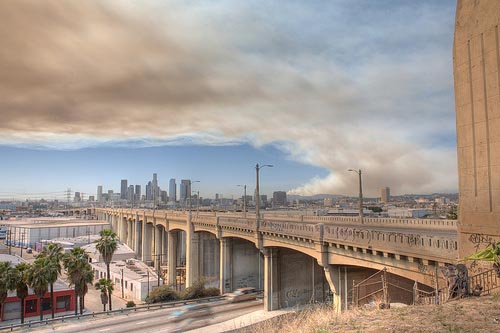 Born in Minnesota, I have lived in Los Angeles for six years, and every once in a while (usually when I'm stuck on the 405), I get to hating L.A. Not all the time, mind you - overall I'm pretty happy living here. But it's hard to be ambivalent about the many faces of Los Angeles, and sentiments abouut the place vary with mood. When you're up, you love Hollywood, the unchanging weather and the gorgeous, vapid women. But when you're down, you hate Hollywood, the unchanging weather and the gorgeous, vapid women.
I'm not alone. L.A. is probably the most sung-about town ever (probably because so many musicians and wannabe-musicians live here), and a good chunk of these songs ain't positive. Many of them in fact are quite scathing - moreso that I could ever be. Below are 15 of the most acerbic musical middle-fingers to Los Angeles ever recorded. I have them all on a playlist in my ITunes.
In L.A., you can die from earthquake or drive-by; tsunami or suicide. When the wildfires flare while the Santa Ana winds are in season, gusts literally blow fires around from place to place. Yet nobody seems to care unless it's their house that's burning. It's times like these that the City of Angels seems somehow less angelic. And it's times like these when I pop in this mix.
1) Why You'd Want To Live Here - Deathcab For Cutie
Key Lyrics
"It's a lovely summer's day
I can almost see a skyline through a thickening shroud of egos
Is this the city of angels or demons?"
This was the first song that I heard that really got me thinking "Wow, people must really hate this city, so make an entire song that's just about not wanting to live there."
2) City of Devils - Yellowcard
"Boy, you gotta love someone more than yourself
I can feel the fire of the city lights burn
And it's hard to find Angels in Hell "
During and after their brief residency in L.A., Yellowcard took out their disdain for the town subtley and not-so-subtley over the course of a few different albums. Unlike some other bands, however, Yellowcard actually backed it up by getting the hell out of town after a few years.
3) To Live & Die in LA - Wang Chung
"I wonder why we waste our lives here
When we could run away to paradise
But I am held in some invisible vice
And I can't get away
To live and die in LA "
Yes, even the band best known for the happy-go-lucky "Everybody have Fun Tonight" gets in on the fight when it comes to bashing L.A.
4) Beverly Hills - Circle Jerks
"Beverly Hills, century city
everything's so nice and pretty
all the people look the same
don't they know they're so damn lame "
Nope, not the "Beverly Hills" by Weezer, although that's another nice little sarcastic jab at a city so pretentious that it voted to seperate from the already pretentious Los Angeles, despite being completely surrounded by it.
5) Forgotten (Lost Angels) - Lamb of God
"This is a mean and cold town
I hate this fucking place
Watch the rats as they all drown
Dying slowly day by day "
Admittedly, this song is such heavy death-metal that it's nearly impossible to tell
what
the lyrics are talking about, but if you look them up, this is it.
6) Pretty Handsome Awkward - The Used
"Your dream vacation, smile hostage refuge
A work in progress, you bleed
Your market value, your resurrection
Your shallow concept
Help yourself, I hope you choke and you die. "
7) Can't Take This Town - Colin Hay
"There's a woman in the mirror, fixing her lips
There's a man in the bathroom, looking for tips
I park the car, and no-one to pay
And one pizza later, it's towed away "
8) The City With Two Faces - Goldfinger
"If I was smart I'd run fast
(out of this town)
Sometimes I want to shout and scream
(Fuck L.A.) "
9) Dead Loss Angeles - The Stranglers
"The plastic peaches there
On concrete beaches there
You see the leaches there
They're soft marshmallow there
It's oh so shallow there
In Dead Loss Angeles "
10) Goodbye Hollywood Lyrics - Richard Marx
"Born and raised in the windy city
I moved west to kick start a dream
What I found was a town without pity
It will chew you up and swallow you clean"
11) Hating Hollywood - Theory of a Deadman
"(I'm hating Hollywood)
I was wasting away just waiting for the phone to ring
(I'm hating Hollywood)
So I became a cautious star (??) with a suicide ending
(I'm hating Hollywood) "
12) Hell Looks a Lot Like L.A. - Less Than Jake
"Another fast food job?
Another 8 to 5 day?
Ten minutes and two miles is just a mile too many today
and you can see why it's easy to say
y'know that hell looks a lot like L.A. "
13) Hollywood Cemetary - Strike Anywhere
"…too many tithed into the shooting star
trading their lives in for the glamour of tar
When I found out all my heroes are just parasites. "
The last line of this song is simply "Fuck you." You can't argue with that kind of directness.
14) The World Began in Eden & Ended in Los Angeles - Phil Ochs
I think the title pretty much covers it.
15) Aenema - Tool
"…this hopeless fucking hole we call L.A.
The only way fix it is to flush it all away
Any fucking time, any fucking day
Learn to swim; see you down in Arizona Bay"
No "hating on L.A. mix" could be complete without Tool's epic rant, which doesn't stop at mere complaining and instead follows through to the conclusion that the only solution is for Los Angeles to break off and fall into the ocean. Besides, it's by Tool, simultanously perhaps the world's eloquent and angriest band.