Douche-Baggery: Exhibit #1 - 6/6/07
Saw this license plate the other day... I'm not one to judge... so I'll let you do it.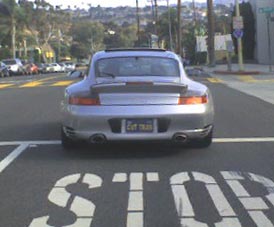 If you can't make it out... the license plate reads "
CUT TAXS
". Sorry for the low-quality photo - I can only afford a proletariate camera phone.
My heart goes out to this guy - Uncle Sam must really be scraping his pockets clean. I mean, he barely had enough money for a spoiler.