Week 17 (Year 2) - 1/14/04
The Features of 702 Paulina - A Photo Tour (part 2)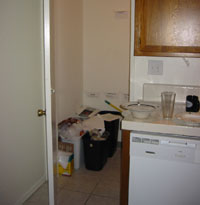 The Garbage Room - Another familiar picture. This is the only room in our house that's been named (besides generic titles like "JD's room" or "Livingroom"). Not that we have a lot of rooms to name… which makes it even more depressing that we have one of them entirely designated to garbage. Hey, we keep recycling and a water heater in there too.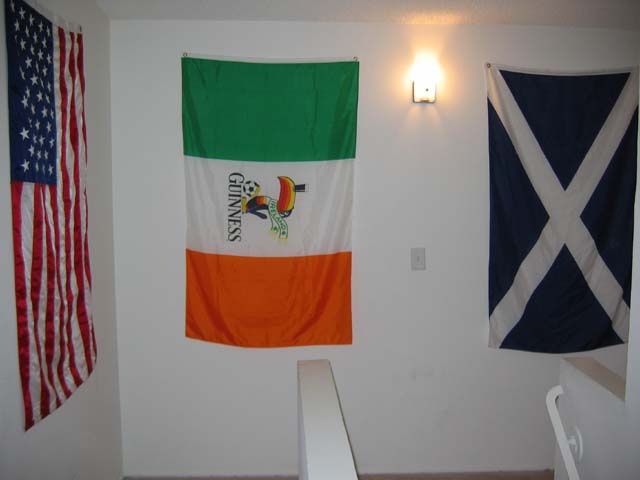 The Flag Hallway - There isn't much to the upstairs of our house except three bedrooms and a well-used bathroom… and a half-room/half-closet that we tried to convince Elia to rent out for 500 dollars a month. He would have none of it. For fear of our second floor being entirely bare, we did manage to hang these three flags – it was our only recourse since any table-like fixture would only impede traffic and immediately become another dumping ground for Gabe's stuff. American, Mexican and Scottish. If anyone can come up with what these nationalities have to do with JD, Gabe and I, email us. We would like to know.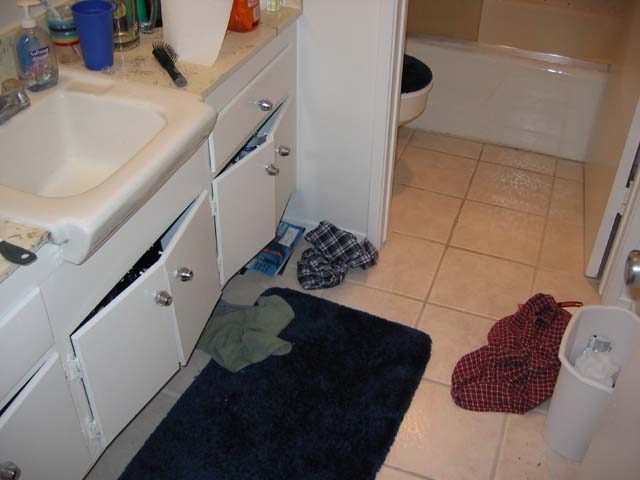 Gabe's Boxers - Somehow, someway, every single pair of Gabe's boxers end up on the floor of our bathroom, as opposed to normal places such as a laundry hamper or even in his room. He says they're marking "his area" of the bathroom; we say they're gross. At first we just donned rubber gloves and transported them gingerly back to his room, but lately we've taken to just kicking them under the sink until he runs out and has to buy more. The strange part about this picture is that it was taken about ten days after Gabe left for break, after I'm pretty sure I removed all his boxers from the bathroom and put them back in his room. I swear to God they're migrating. And multiplying.
The Breaking & Entering Roof - Four times now this path has sufficed for access into the house, though only once for sport. Note the faux rocks and the slight slant that make rooftop picnicking and sunbathing sadly less than desirable. Sorry, no prominently-featured Spacemobile in this picture.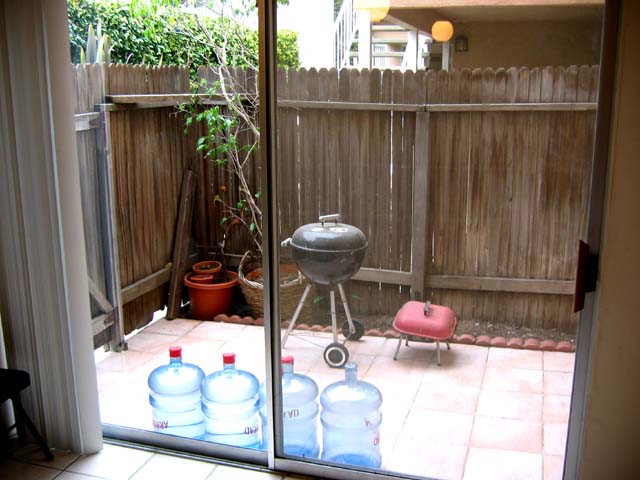 The Backyard - All 8x10 of it. Fenced off from our neighboors, too small for a picnic table, this tiny patio functions only as a dock for our two free grills, a smoking pit and a wall for Wilson next door to poke his head over and offer maudlin, unsolicited advice.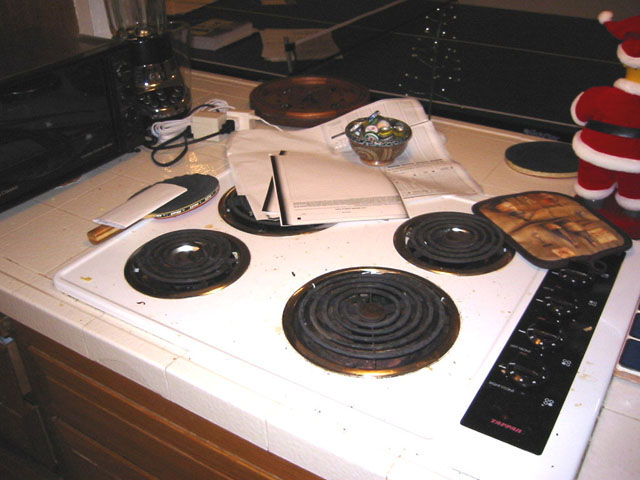 The Stove - No, this shot was not set up. While not inherently disgusting like the '20's oven or the '30's fridge, we seem bound and determined to let our gas stove also contribute to the bringing-down of the house – perhaps in flames. Or at least by never ever cleaning it. You're more likely to find paper left on the stove than food, and more likely to find half-finished GED tests than healthy food.
The Board - Though currently covered with a giant Idiot Olympics Board, this board is perhaps the most long-standing and most meaningful of additions to our house. It has recorded our ping-pong games since Day 1 (Sam has beaten JD 128 games to 4) and quotes that have been uttered since about then around said table ("If I was a Gypsy I'd turn myself into a forture cookie who had a different answer for everyone who came along." – JD). And not to turn this into a Gabe-focused website, but it also contains a Top 10 list of Teaching Situations That Would Be Worse Than Teaching In Watts (inspired one day when Gabe's job future seemed uncertain due entirely to asinine bureaucratic stupidity. Maybe this is where he got the idea for his essay. For your enjoyment, the list has been reprinted below. Not that the board could ever be erased at this point.
Top 10 Teaching Situations That Could Be Worse For Gabe

Vampire children
Hebrew school
No-Unicorns-University
The kids bite and have rabies.
The Helen Keller school for blind, deaf, dumb children-in-a-box.
Barber college
Whatever school the Meatheads go to
Hooked on Hponics school (ouch)
Dishwashing school (double ouch)
To be reassigned to his current position