Tosh.0 - Part 2 - 8/4/09
Thursday, I shot a Web Redemption for Tosh.0 on Comedy Central. The episode airs this Thursday, August 6th. It should be quite interesting.
To recap from my
previous post
, last Monday I'm minding my own business at my parents' cabin in northern Minnesota when I get a call from Comedy Central wanting to know if I can fly back to LA Thursday to re-create the famous
dizzy drunk dunk
on national TV. I consulted my girlfriend Kasey, who thought this was a fabulous idea.
"But I'm in Minnesota," I said. "In the woods."
"Well then you'll just have to train with what you've got," said Kasey. "Chugging egg-yolks, and spinning around logs. Like Rocky did, before
his
dizzy drunk dunk."
Apollo Creed ain't got nothing on my girlfriend.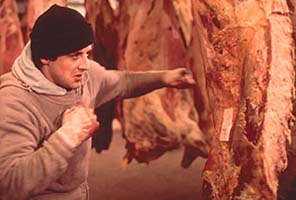 Long story short, 48 hours later I'm waiting at LAX as Rico from Tosh.0 picks me up in a red convertible. 12 hours after that, I'm sitting in a make-up chair at the studio.
The part I was least expecting? To need a make-up and wardrobe lady for a dizzy drunk dunk.
The most pleasant surprise? The shoot was being directed by Jake Szymanski, my old college buddy who started
Pandasmash
with Sam and me before we got hired by Break and he got hired by Funny or Die. In 2001, I was directing Jake to be an armless film critic who couldn't wipe himself. The tables have certainly turned.
The silliest part? They paid me $600 and free lunch to be there for the 4-hour shoot (oh, and first-class roundtrip plane tickets). Because I once chugged a beer and fell into some garbage cans. The world is such a hilarious place sometimes.
I can't say much before Thursday, but I think the pre-game locker-room interview turned out great. As for the dunk recreation, well… let's just say, they may have added a few elements.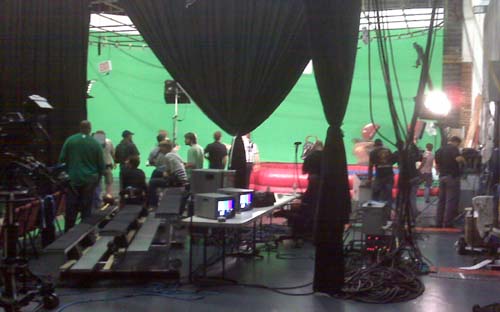 Thursday night, Comedy Central, Tosh.0. It's on at 10pm most places - check your listings.
Oh, and there's a surprise at the end that you WILL NOT believe.